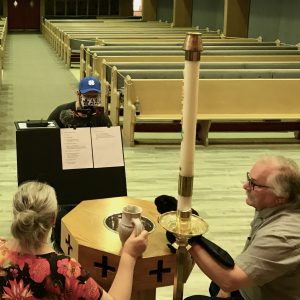 The journey begins with writing the puppet skit and asking which puppet would be interested in helping us each week. Then decisions are made about location and angle that work with the story.
After the filming, AV techs Larry and Alex adjust the voice, light, and all kinds of technical things behind the scene. 
Come and see each Sunday morning at 10am! Thanks be to God!
For this video Beaver was quite pleased that the topic was – finally – water and he could participate in his own element! And what a wonderful job he did, too! (This video will be a part of the worship on June 20th.)