On March 27, 2022 we adopted the following Welcome Statement created by our youth and confirmation class.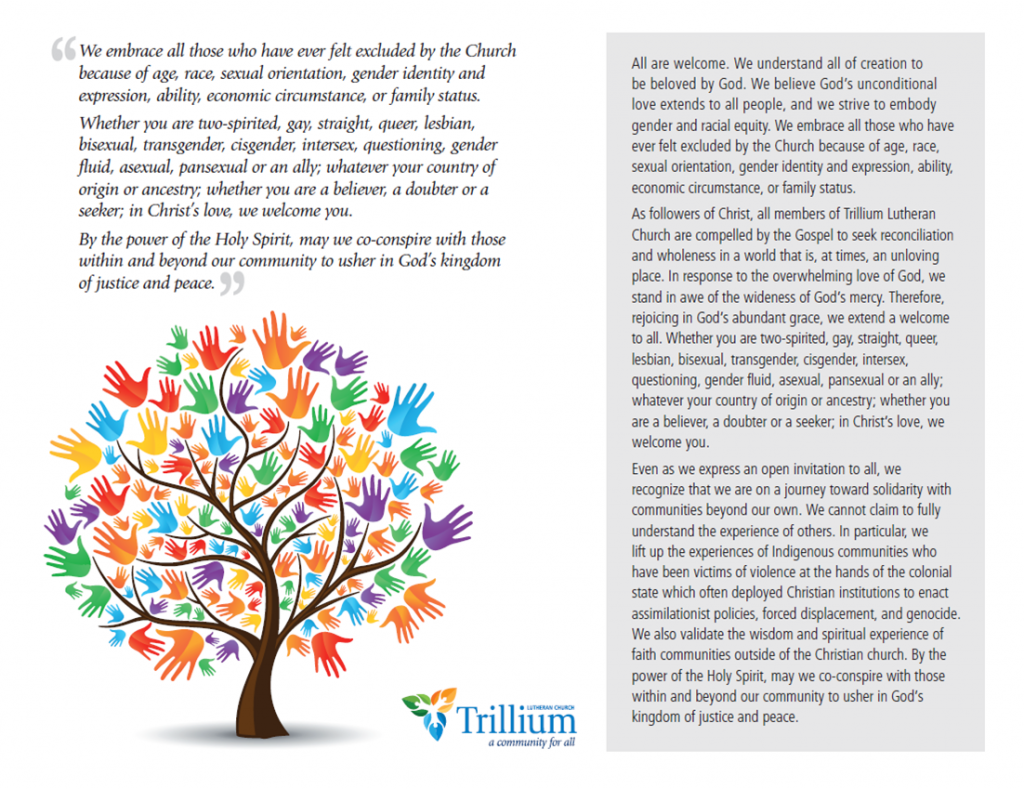 All are welcome. We understand all of creation to be beloved by God. We believe God's unconditional love extends to all people, and we strive to embody gender and racial equity. We embrace all those who have ever felt excluded by the Church because of age, race, sexual orientation, gender identity and expression, ability, economic circumstance, or family status.
As followers of Christ, all members of Trillium Lutheran church are compelled by the Gospel to seek reconciliation and wholeness in a world that is, at times, an unloving place. In response to the overwhelming love of God, we stand in awe of the wideness of God's mercy. Therefore, rejoicing in God's abundant grace, we extend a welcome to all. Whether you are two-spirited, gay, straight, queer, lesbian, bisexual, transgender, cisgender, intersex, questioning, gender fluid, asexual, pansexual, or an ally; whatever your country of origin or ancestry; whether you are a believer, a doubter or a seeker; in Christ's love, we welcome you.
Even so we express an open invitation to all, we recognize that we are on a journey toward solidarity with communities beyond our own. We cannot claim to full understand the experience of others. In particular, we lift up the experiences of Indigenous communities who have been victims of violence at the hands of the colonial state which often deployed Christian institutions to enact assimilationist policies, forced displacement, and genocide. We also validate the wisdom and spiritual experience of faith communities outside of the Christian church. By the power of the Holy Spirit, may we co-conspire with those within and beyond our community to usher in God's kingdom of justice and peace.
We are also taking steps to become designated as a "Reconciling in Christ" congregation.