SEEKING WISDOM: Holy Week Art Display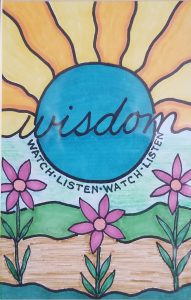 For more than a decade, each year, each day of Lent, artist Helen Weber creates a piece of art as part of a personal spiritual journey. A few years ago, Helen (a member of Trillium Lutheran Church) looked at Lent through the lens of other traditional spiritual teachings and writings. The art that will be on display in the Fellowship Hall at 22 Willow St. in Waterloo from Monday, April 11 to Friday, April 15 is the result. Doors will be open for visitors Monday to Wednesday from 1 pm to 4:30 pm, on Thursday from 1 pm to 8:30 pm and on Friday from 9 am to 4 pm. All are welcome.
Also on display will be art by Gladys Cormier in the lobby showcase and the art series from the 2021 Good Friday walk, "Pandemic Hope" by artist Mary Button in the lobby & hallways.